Interactive Maps
INDUSTRY COVERAGE MAPS - WORLDWIDE
Choose the industry that matches your needs, double-click anywhere to set your location and use the checkboxes in the legend to toggle coverage layers.
Trimble RTX Satellite
Broadcast Frequency Coverage Map
Trimble RTX® Beam Updates: Transition Start Date: Aug 1st, 2022 - Transition End Date: Oct 3rd, 2022. Ensure your receiver is configured to the most current frequency and baud rate for optimal satellite tracking and performance. More info.
Download PDF
Ionosphere Total Electron Content (TEC) Map
Understand where potential GNSS signal interference may be more prevalent.
Fact 1
TEC is the number of free electrons between two points, such as the receiver and satellite.
Fact 2
Affected by solar activity, the more TEC, the longer the period of GNSS interference.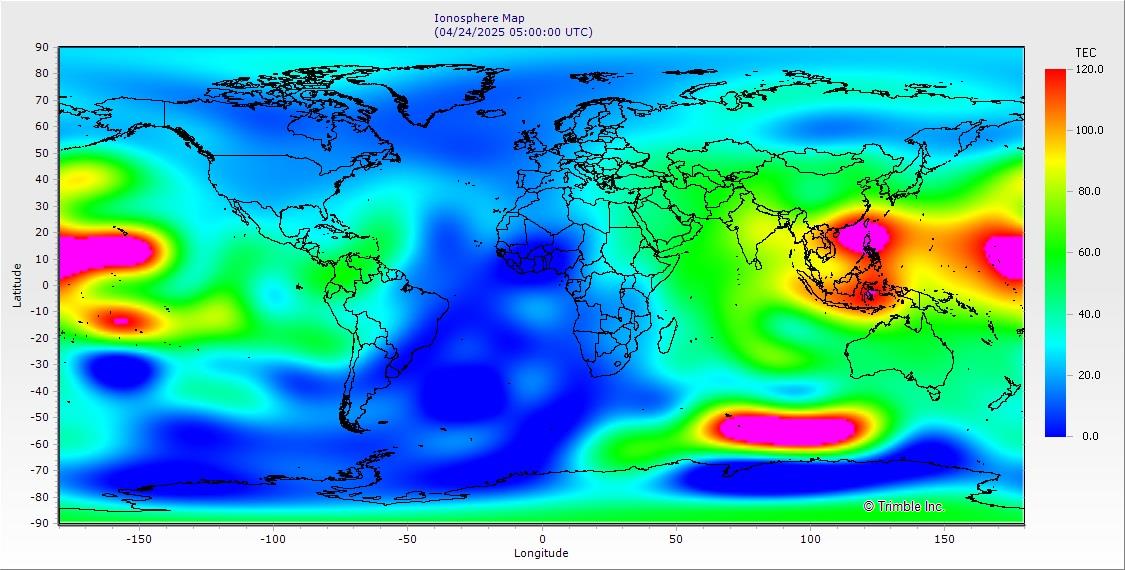 Ionosphere Scintillation Map
Identify where atmospheric irregularities are strongest and interfering with GNSS signal delivery.
Fact 1
Space weather, such as sunspots, cause distortions in the Earth's upper atmosphere.
Fact 2
These fluctuations can result in GNSS signal errors.